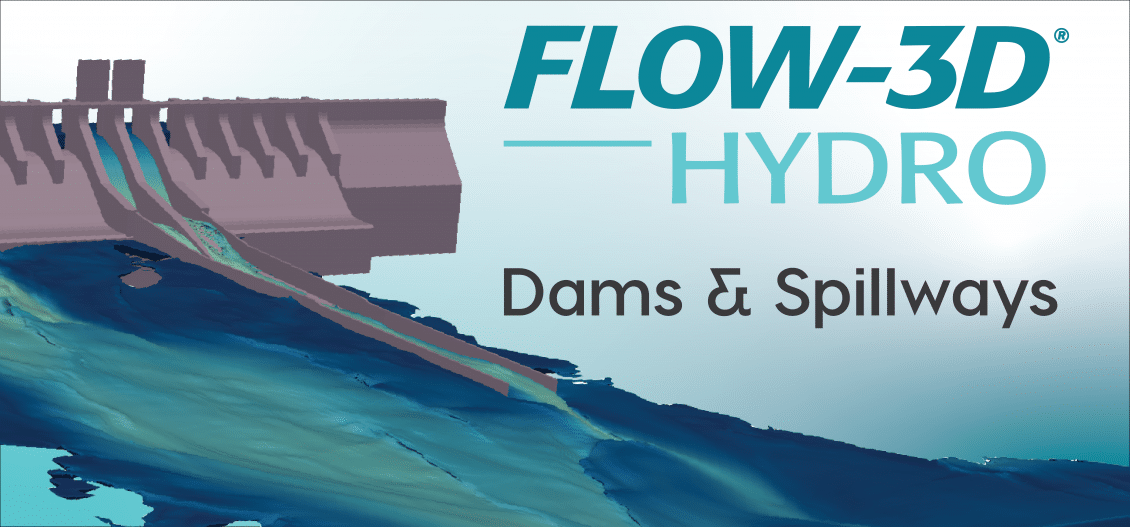 Hydroelectric power projects are sensitive to three-dimensional flow effects, and accurately predicting flow patterns is important for maximizing efficiency. FLOW-3D HYDRO is an industry leader in free-surface flow modeling and is used by dam professionals to address a wide range of design problems for existing and proposed projects. With state-of-art free surface flow modeling, exceptional accuracy and ease of use, and seamless integration of our solution into high performance computing platforms, dams and spillways are ideally suited for the natural modeling strengths of FLOW-3D HYDRO. From the simplest ogee to the most complex geometric configurations, every element of the dam and its surrounding infrastructure are ideal candidates for FLOW-3D HYDRO modeling. Common challenges that FLOW-3D HYDRO addresses include improving flow efficiency and distribution at intakes and spillways, performing complex environmental impact assessments of dams, and designing and optimizing fish passages.
Dams & Spillways Playlist
Description
With the increased availability of high performance computing platforms, large scale simulation of complex free surface flows can now include very high meshing density, which delivers for the user a very high accuracy representation of the flow. This labyrinth weir model includes the free surface flow, as well as an estimate of air entrainment.
Dams & Spillways Focused Applications
FLOW-3D HYDRO is one of the most powerful tools available to analyze complex free surface and confined flow problems out there today. It provides an easy-to-use modeling interface and has been an integral tool in the design of hydroelectric, environmental, water resource and treatment related projects I've worked on over the last 15+ years. Flow Science's technical support team and developers are easy to work with and are eager to provide advice, hear input from its users on potential enhancements to the code as well as quickly resolving issues that arise. The entire team at Flow Science have been great to work with and are a great resource to all engineers.
I have used FLOW-3DHYDRO for over 15 years solving fluid flow problems in research and industrial applications. We use the software extensively in the design of river and coastal structures, water treatment units, dams, spillways, deep tunnels, and CSO diversion structures. FLOW-3DHYDRO integrates state of the art in numerical solver techniques, cloud computing, pre- and post-processing tools resulting in substantial time and cost savings to our clients. FLOW-3D HYDRO sales and technical support teams are excellent!
FLOW-3D HYDRO is a sophisticated tool that provides insight into complex hydraulic problems that would be difficult to visualize or quantify with other software. Despite the sophistication, the software is very user friendly, and Flow Science provide great documentation and technical support. The results we have obtained from our FLOW-3D HYDRO models have impressed both our clients and non-modelers in-house.
From using CFD analysis with FLOW-3D HYDRO for over twenty years, our level of trust has increased to the point that we are now confident in using CFD modeling for general study purposes and final design applications. The software gives us flexibility to quickly change conceptual details and configurations allowing the design to advance in stages.
FLOW-3D HYDRO is a powerful tool with many applications. We used FLOW-3D HYDRO to effectively resolve flow through and hydraulic forces on a water diversion structure. We also modeled water flow through a proposed fish passage. We have been impressed with the accuracy, computational speed, and especially the user friendly GUI. And, our clients have been impressed with the model output, as well as, animations created by the post-processer. We are also appreciative of the highly responsive support staff.
Over the years, FLOW-3D HYDRO has helped us solve complex hydraulic problems that would have otherwise been very difficult to solve with conventional hydraulic modeling tools. We are very thankful to the team at FLOW-3D HYDRO. They have constantly been making the software better over the years, and have been very responsive to our needs.
It is FLOW-3D HYDRO's inherent simplicity that lends itself to use in real-world problem solving. Rather than spending large amounts of time pre-processing (i.e., setting problems up), users can spend their time applying the results of their work.
FLOW-3D HYDRO is a powerful tool for solving complex hydraulic issues related to planning, design and operation of our hydraulic system, as well as associated environmental studies. I am also impressed with Flow Science's customer support and product development.
It was really kind of fun. I learned more about where physical modeling was needed and when so, for certain instances, you actually can just do a pure CFD-based design. The physical model really wasn't needed, but it gave the validation and reduced risk. It was incredible to get both those things done on a project.
Proud to be Corporate Members